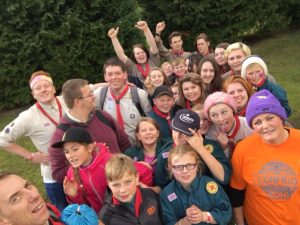 1st Washington Scouts and Explorers took part in the largest annual gathering of Scouts from across Durham at the weekend – with over 1200 people – as the carnival came to Moor House Adventure Centre for this years Confido.
The annual event is one of the highlights of the Scouting year, which brings together groups in Durham Scout County (and some further afield) for a weekend of activities, parties and a chance to meet up with friends, or make new ones. This years colourful carnival theme saw Moor House transform into a vibrant party-atmosphere in the evening, which seemed to last the whole weekend as our Scouts and Explorers took on various activities, from zip wiring, shooting and climbing to free falling, archery and quad biking.
There really is something for everyone.
Our Scout Leader, Mr Lloyd, is the stage team organiser at Confido, which provides high-quality entertainment throughout the weekend from stage games to songs that get you moving. You can blame him if you've got Soco Bate Vira stuck in your head, as it is pretty catchy! Those there should have recognised the voice that woke them up, as Mr Richardson took to the airwaves on Confido Radio as 'DJ who does Leaders request lunch'. This year also saw Confido Radio's first roaming reporters, as Mr Gray and Robin scouted the camp for some top-notch interviews. Meanwhile Owen helped prepare the Street Fiesta – part of the Saturday evening fun – whilst Dizzy and Karen helped feed the 1000+ campers. Events like this rely on volunteers, so if you'd be interested in getting involved be sure to visit our volunteering page.
We even had some special visitors from our Cub section, as our very own Sam and Thomas took charge of the archery range during the daytime activities. This was Sam's first time at Confido, and Thomas' first one since he was in Scouts. Both commented on how fantastic the atmosphere was on site – they may have even agreed to come back next year…
You can view photos from the weekend here, on our Facebook page, the Confido Twitter and Facebook page, which has videos from the closing party. There's also a video of the Saturday at Confido and the whole weekend from the Durham Scouts YouTube.
So that's it over for another year – will you be at Confido 2017?