Beavers discussed how the world may appear to them should they lose one of their 5 senses tonight and discussed some of the difficulties a person with disability may face.
We set up tables with activities designed to remove one of their senses, touch, sight etc and also looked at how we might use other methods to communicate with someone who had little/no speech, as well as how someone might mobilise using a wheelchair.
Alison showed the Boys how to communicate the Beaver Scout Promise in Makaton.
Robin demonstrated wheelies in the wheelchair and quickly discovered how much hard work this was on his arms.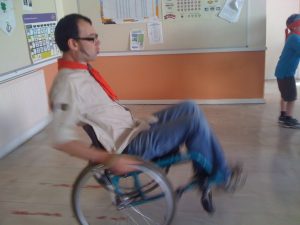 With sight occluded and a helper to assist them the Beavers had to navigate an obstacle course, which turned (as usual) into something akin to "It's a Knockout!"
We said goodbye to one of our Beavers scouts tonight and hope he has fun and adventures in Cubs 🙂
Finally, we ended the session making Fathers Day cards.